Welcome to the press center for Azul Paradise, Bocas del Toro's premier multi-island hotel brand. Please enjoy the latest buzz about our properties.
DISCOVERING NEW HORIZONS
Azul Paradise introduces Azul Shala

BRIDES.COM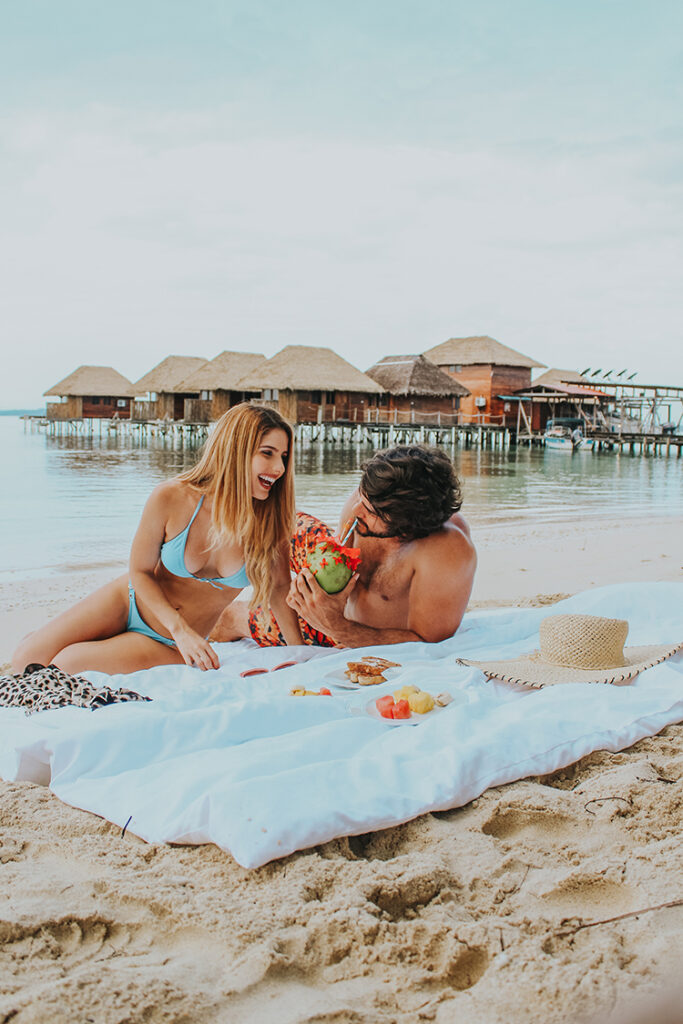 TV APPEARANCES
CNN Español // Bocas del Toro: Un Paraíso Sobre el Mar Azul del Caribe
Nuestro viaje por Bocas // Bocas TV Panama, 19 January 2020
"Cold Ain't For Me" Music Video by Oceans
Panama Good Times App Advert
https://www.youtube.com/watch?v=JNFdzTnN76A
Make or Break Season 2 (UK reality TV show), February 2019
https://www.facebook.com/erin.williams.56614/videos/pcb.10156201423747201/10156201410387201/?type=3&theater
NATIONAL & INTERNATIONAL PRESS
Panama Good Times, Issue 58, January 2020
Escapes Magazine (Air Panama) January/ February 2020
Panama Good Times, Issue 56 November 2019
Escapes Magazine (Air Panama) July/ August 2019
Escapes Magazine (Air Panama) January/ February 2019
Escapes Magazine (Air Panama) September/ October 2018
Escapes Magazine (Air Panama) July/ August 2018
Tourist Directory of Costa Rica 14th Anniversary Issue, Front Cover
ONLINE ARTICLES & BLOGS
12 stunning locations for a Hollywood-worthy honeymoon // Brides, July 29 2021
The essential guide to Bocas del Toro: Panama's dreamy archipelago // Pty.Life, January 14 2020
Escape: Bocas del Toro // Lux Life Panama
The ultimate guide to Bocas del Toro, Panama // Rosie Bell's Blog, January 3 2020
Best places in Panama to celebrate New Year's Eve // Pty.Life, December 20 2019
Toes in sand, drink in hand: a guide to Panama's islands // Lonely Planet, October 21 2019
Some of the best luxury experiences to be had in Panama // Club Elsewhere, August 1 2019
10 Instagram accounts to fall in love with Panama // Casco Spanish, June 19 2019
Luxury experiences in Panama that are just fabulous // Pty.Life, May 6 2019
Things to do in Bocas del Toro, Panama (A fully comprehensive 3-day guide) // A passion and a Passport May 5 2019
The Perks & Perils of Life in Panama // We Are Travel Girls, February 19 2019
10 stunning beaches in Panama // Club Elsewhere, February 19 2019
Panama: Bocas del Toro // Ma Petite Sphère by Gisele, January 24 2019
Where is Make or Break season 2 filmed? // Reality Titbit, January 2019
70 awesome things to do Panama // Journey Era, December 24 2018
Cual es tu idea de paraíso? Bocas del Toro, un paraíso en Panama // Telemetro, December 3 2018
10 gorgeous places to stay in Bocas del Toro, Panama // Pty.Life. August 7 2018
Checking in: Azul Paradise Resort Bocas del Toro // Club Elsewhere, July 2 2018
Hotels in Panama // The Unconfined Life, June 16 2018
The most unique boutique hotels in Panama // Pty.Life, April 25, 2018
4 days and 8 fun things to do in Bocas del Toro, Panama // Travelinmad, April 20 2018
Checking in to paradise: Azul Resort Bocas del Toro // Pty.Life, November 30 2017
Un tranquilo estilo de vida caribeño en Bocas del Toro Panama // Panama Travel Group, March 18 2017
Yoga called Bocas // Bocasdeltoro.com, September 16 2016
Azul Paradise, Isla Bastimentos, Bocas del Toro, Panama // The Salty Renegade, September 12 2016
Best overwater bungalows in Panama // Pty.Life, August 23 2016
Azul Paradise Resort – Panama // Overwaterbungalows.net, May 10 2016
La vida en Bocas, Panama // Marcy Yu, March 23 2016
INFLUENCER & GUEST VIDEOS
Morgan Oliver- Allen
The internationally acclaimed photographer, videographer and content creator works with the who's who of travel businesses but has focused on Azul Paradise – a place very close to his heart – for several years.
Jessica Goicoechea (One of Panama's Top Influencers)
Empty Duck Digital
Positravelty
Instagram influencers Kelly Castille and Kody Workman (AKA "Positravelty") have over 200,000 Instagram followers and they are regular collaborators.
https://www.facebook.com/erin.williams.56614/videos/10156504427807201/
Becoming Boyce
Will Keistler
CUSTOMER REVIEWS
Many of our guests rate our hotel as 5 stars. Below are some excellent reviews from customers who adore our slice of paradise.
"A Retreat Like No Other"
I have traveled to other parts of the Caribbean, Europe, and Africa although each trip has added something to my life, never before has a place filled my soul like Azul Paradise, the Isla Bastimentos, and the people of this beautiful island. From the staff at Azul Paradise to the local people that I have had the joy of meeting, everyone is friendly and genuine. The vistas are breathtaking and the variety of experiences that I was able to have were amazing: snorkeling gorgeous coral reefs, watching dolphins in the wild play, kayaking open seas to jungle rivers, surfing, tours through the rainforest, private walks along the beach or jungle paths. I am a hobby photographer and this trip provided me with endless opportunities to enjoy capturing the splendor of this true paradise. Come! Come alone, Come with your partner, Come with friends, Come with your family… just get here!
– Larissa K (Omaha, Nebraska)
"Fab Place, 5-star Service"
Location is 5-star right in the middle of town. Our on-the-water room was great, we loved the style and the views of the water. Beyond this, from the moment we walked in (even after we left), we were treated to 5+++-star service – thank you. They did everything from taking our bags up to our room and helping us with travel arrangements and recommendations to even booking a boat captain for the day after we checked out. The bar on the water was great as well and even had a DJ in the evening. I will definitely be back.
– Christine_Leuthold (Atlanta, Georgia)
"Exceptional in Every Way"
We were here for several days in one of the bungalows and truly loved it there. The staff was super friendly and helpful, the food and drinks were way above the norm, and the accommodation was excellent. The owners of this resort and also the Azul Paradise Hotel in Bocas Town have done a wonderful job of putting together really great places. We also spent one night in their hotel when we arrived and liked it as well. We don't know when but we will return to one of those bungalows over the water again, and the next time it will be for more than a few days. Thanks to everyone there for a really great experience and time.
– Richard D (Saint Charles, Missouri)
"Pure Paradise"
Azul Paradise is exactly as the name suggests: a paradise. The multi-island experience gave us the opportunity to discover 2 very different, yet equally awesome, getaways. Azul Paradise on Isla Bastimentos is made for people wanting to detach and disconnect from the hustle and bustle of the city. It provides the utmost in relaxation and tranquility. The food is INCREDIBLE, the views are great, and the water is 'azul'. There is nothing more relaxing than having a good coffee in a hammock right off the deck of your private balcony listening to the waves crash into the shore. You can snorkel, surf and kayak in the calm waters as the resort provides you with all the necessary equipment. The staff was amazing! The room was gorgeous, comfortable, and clean and they use PAPER straws too, very happy about that!
– Yulneveroamalone (Montreal, Canada)
"An Amazing Place For a Honeymoon"
The staff were wonderful and went to great lengths for us – even as far as providing a birthday cake for my husband. Each morning we watched the fishermen come to shore with the fresh bounty for that day's meals and there wasn't a single meal that I didn't care for. All of the ingredients were fresh and lovingly prepared. The chef shared details of each dish with us and made every modification requested. The massages were excellent and there were plenty of water toys to play with, kayaks, stand up paddleboards, floats. The add –on excursions are also brilliant – go see the sloths and the dolphins in their natural habitat.
– Nadine (Salem, Massachusetts)
"Most Definitely a Paradise"
This hotel is definitely a paradise on the island of Bocas del Toro. I got top-notch service with absolutely nothing to complain about. We were welcomed by the lovely manager who showed us around and made us feel welcome. We also got complimentary champagne on arrival. The sunset and sunrise views from the bungalows are some of the best I've ever seen. We were offered a complimentary tour of the island and they even taught us how to paddleboard. The food was so tasty and the chefs made everything to perfection. We were asked where we were from and while we had lunch, they put on music from our country. That attention to detail is something that I haven't gotten anywhere else. I love the fact that most of the staff are from the local community, which gives it that homely vibe. This place is just simply magical. I can honestly say I have no regrets except not staying longer. Do not hesitate to visit this beautiful resort, and I hope your experience would be as magical as ours.
– Monica
"Amazing Stay at This Secluded Paradise"
This property exceeded expectations. The bungalows were beautiful, the staff was top-notch, and the activities were outstanding. Thanks for being gracious hosts and providing excellent recommendations. The meals at the restaurant were fantastic.
We enjoyed every bit of this stay and wished we could have stayed longer. I really enjoyed chatting with the locals in the village behind the resort and seeing how they lived. The property employs a number of them and we graciously overtipped to help out the community. If you want to get away from life's hustle and bustle, this is the place to be.
– Kyle M (Houston, Texas)
"A Private Paradise"
Let me start the review off by saying, this is not one of those resort factories. Azul Paradise is an off the grid resort. Their focus, as demonstrated by a sign at the restaurant, is to "leave no trace." So I am giving Azul 5 stars because they deserve it. We were fortunate enough to experience some of Bocas's finest weather. When we were there the weather was excellent, sunny, with a nice breeze. We utilized the complimentary kayaks, stand up paddleboards, and paddleboats. They're a great amenity and we used them a lot. The food tasted great across the board, our favourite meal was breakfast. We had dietary restrictions and the waiters and kitchen did a good job accommodating them. We went on two tours, a snorkel excursion, and also to the chocolate farm. The owners are great and as it's a small place, they made an effort to get to know all of the guests on a personal level. Overall, Azul Paradise provides a beautiful secluded beach, incredible nature, and comfortable bungalows in the middle of nowhere. I would definitely recommend Azul Paradise.
– Charles L (New York)
"Unbelievably Friendly Staff"
My girlfriend and I have been traveling a lot over the last two years, and we have seen a lot of good hotels all around the globe. However, what we saw in terms of the friendliness of the staff during our recent stay in the Azul Paradise Hotel in Bocas del Toro was simply top-notch. The staff made our stay really unforgettable and helped us greatly wherever they could. Also, the view from our room was simply gorgeous. The bed was super comfortable and we really enjoyed having breakfast on the hotel's terrace. We cannot recommend beautiful Bocas del Toro in general (and Azul Paradise Hotel specifically) enough. Once again, many thanks for four fantastic nights.
– Wilm2505 (Zurich, Switzerland)
***
We look forward to welcoming you here in paradise.