Bocas Town
0000004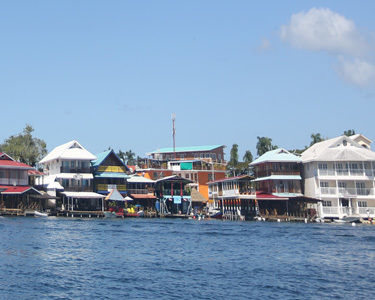 Bocas Town:
Colorful and Caribbean!
No more than 15 years ago this town of clapboard houses on the main street was just a single dirt road that marked the best hidden secret in the Caribbean. Today, Bocas is a relaxed community of locals and expats who strive to create a hospitable atmosphere. If you are looking for a life of slow pace and pure rustic magic this town will hypnotize you into canceling all future plans.
The main street of Bocas town is not located on any beaches, but you can easily rent a bike or take a taxi ride outside of town. Just 9 degrees above the equator this little paradise will captivate you with it's Caribbean vibe of little shops and restaurants built on stilts over the water. You will find yourself idly wandering the streets as the allure of Bocas is simply slowing down and soaking up the vibes. Most travelers learn after spending a day or two in Bocas it's nice to be back on the beach for rest and relaxation.
Day Trip on a Scheduled Boat Only: $15.00 - Please See Office for scheduled times.

This trip must be set up 24 hours in advance.
Private Boat to Bocas will be charged at a different rate.